Need to track attainment of skills over time?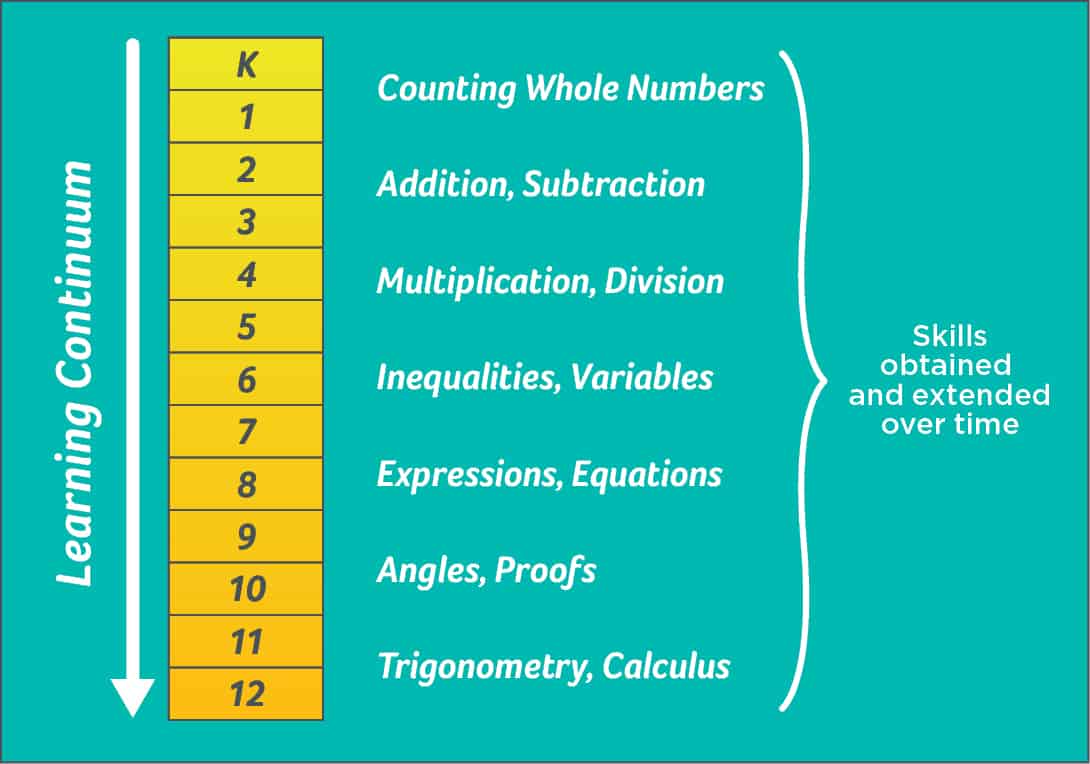 An effective assessment strategy includes an ongoing measurement that shows you where students are on the learning continuum throughout their educational career.
Ascensus Growth provides this ongoing measurement via criterion- and norm-referenced computer-adaptive assessment in Reading, Language Arts, Mathematics, and Science. Rigorously created by our assessment development and psychometric experts, these exams deliver reliable scaled scores and statistically valid results that accurately map a student's position on the continuum. And results go beyond the standard and stand—test items are aligned down to the individual skill level for pinpoint accuracy.
Traditional assessments focus on standards for one grade level at a time, making it challenging to determine overall student placement or to focus on individual student needs.
With Ascensus Growth, students experience tests tailored to their proficiencies. The online test adjusts automatically to each student's ability level, so students are not frustrated by test items that are much too difficult or much too simple, leading to greater engagement, less time testing, and more time learning. Even better, our instructional resource partnerships connect results to individual learning paths you can really use to help students succeed.
Less Testing, More Measures
Educators always want more teaching time—but also more, and better, information. Student always want fewer tests. Ascensus Growth helps you balance those needs with robust computer-adaptive tests for a variety of subjects that deliver several measures from a single test administration.
Available Subject Areas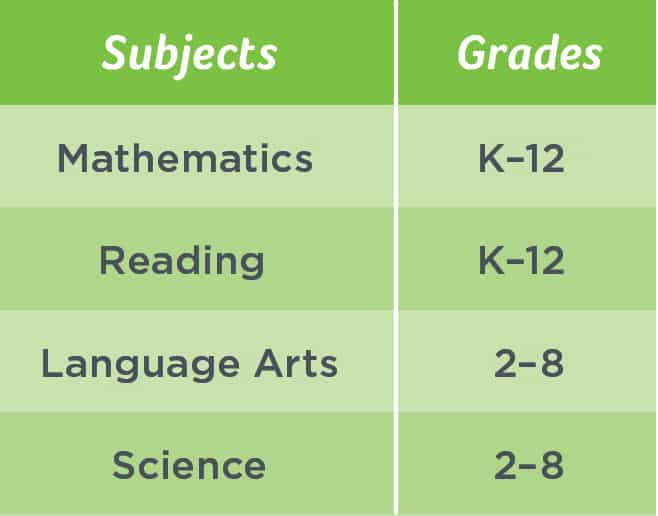 Available Measures
Scaled Scores
National Percentile Ranking
Normal Curve Equivalents
Grade Level Estimate
Performance Band Rating
Reading Rate
Lexile® Measure for Reading (see Instructional Resources: The Lexile Measure for Reading for details)
Given over time, Ascensus Growth tests provide a holistic, longitudinal view of student proficiency

Need a Faster Test? Try Ascensus Growth Express Today!
Scantron offers a shorter, 25-question version of Ascensus Growth. Faster testing, faster results, faster student impact.  Contact your Scantron representative to discover whether PS Express is right for your testing needs.
Features & Benefits
Personalized Testing

Tests automatically adjust to each student's proficiencies in multiple subjects, leading to less time testing and more time learning
Results are valid and reliable scaled scores that can be used to measure academic growth over time

Individualized Learning

Results report at the skill level, not just at the standard or strand, for pinpoint analysis of proficiency
Teachers can create an individualized learning plan for each student based on his or her particular needs

Scantron's unique Suggested Learning Objectives organize skills and concepts by ability level, according to the Ascensus Growth Scaled Score
Reports and results connect to instructional resources from Scantron, Knovation®, Edgenuity®, and Classworks®

Aligned with State, Common Core, and College & Career Readiness standards, these skills and concepts guide holistic instruction by identifying next steps for the teacher, student, and parent

Insightful Reports

Track individual student, school, and even district-wide progress over time
Compare performance scores through the Scaled Score, Standards Item Pool Score, National Percentile Ranking, and an optional Lexile® Reading Score
Develop custom learning plans for each student with just a few clicks, based on State, Common Core, and College & Career Readiness standards

Immediate Results

View reports as soon as test is submitted online or form is scanned
Aggregate and disaggregate data by selected criteria
Access standards-based reports on an individual student, class, school, or district for state and federal reporting purposes

Web-Based

24-hour access to data from any computer with Internet access and from many mobile devices
SAVE TIME
No test  creation needed—all tests and items are predefined and backed by decades of research and a rigorous development process designed and implemented by Scantron's content experts.
We maintain the tests continuously, adding new items, removing stale content, and aligning items to evolving state and other educational standards.
Results provide multiple scores for individual placement and learning targets, class grouping, and program evaluations, including national norm comparisons, national percentile ranking, Lexile® measures on Reading tests, and much more
Limited setup necessary—once student data is imported, students simply log in from an internet enabled device (PC, Mac, iPad, Kindle, Chromebook, with Android coming soon), select the subject area, and begin testing.
Express form testing available; ask your representative
Reach More Students
With Ascensus Growth, students take individualized tests that automatically adjust to each student's ability level.  Struggling students are supported with questions they can answer, reducing their frustration. High-achieving students are challenged with more difficult items, increasing their engagement.  The result is a more accurate understanding of student knowledge across the classroom.
Results for Everyone
You get much more than a single score from Ascensus Growth.  Teachers, committees, administrators, students, and parents all see results that help answer their questions.
Class performance by skill is available to help teachers create targeted learning groups
Average growth by custom group is available to assist in program evaluation
Trends across years and percentile rank provide parents the view they need to understand how their student is performing against his or her past performance and against their national peers
Report Benefits
Ascensus Growth offers extensive reporting so you can get the most out of your scores:
Student and Parent reports cover growth trends, specific scores, and skills that need additional focus, in both English and Spanish
Teacher reports show class and student profiles, with skills directly connected to instructional resources, showing current performance and gains analysis data
Administrative reports summarize results, providing extensive aggregation and disaggregation by demographics and other critical student data
See Ascensus Growth Sample Reports for examples